Hurricane Relief News & Updates Here:
Update, Jan. 31st:
On Monday, we hosted an informational meeting for community members in response to Hurricane Sandy. At the meeting, representatives from FEMA and other organizations were able to provide individual attention to those seeking assistance.
The representatives were able to assist residents in several different ways. There was an opportunity to consult with and receive help from  Bill Niezgoda, the senior insurance examiner from the Department of Financial Services, about any problems & disputes with insurance.

In addition, FEMA representatives met with individuals to discuss specific cases, mitigation assistance, the National Flood Insurance Program and the Small Business Loan Program. Kevin Hannes, the Long Island branch manager of FEMA, was available to answer questions.
The New York Legal Assistance Group sent two attorneys offered free legal help to those in need.   They took on people's cases at no charge.  There were so many people who wanted to utilize NYLAG's services, so we'll be arranging another day during which people can set up appointments in advance, and lawyers from NYLAG will be available to meet with them.
Project HOPE, a crisis counseling organization, sent two representatives to counsel as well as provide connections with much needed recovery resources.
 With the help of local contributors, Chabad provided a form for attendees to request financial help for items that they are still lacking in their homes.  The forms are currently under review and Chabad of Merrick-Bellmore-Wantagh is working on raising more funds to try to cover as many as the items as possible.
If you would like contact information for any of the above agencies, please contact us at [email protected] or call us at 516-833-3057.
To donate to our relief fund which goes directly to help members of the Merrick-Bellmore-Wantagh communities, please click here.
Update to Jan. 28th meeting:
In addition to the info below, we will also have representatives from NYLAG (New York Legal Assistance Group). They will provide you with a free attorney who can represent you with your claim, free of charge.
On Monday, January 28th, Chabad will be having a
Sandy Recovery Resources Community Meeting 
Did you know that.... 
Monday, January 28 is your last chance to register with Fema.

If you are having trouble with your Insurance, the Department of Financial Services can help you. 

 With the help of local contributors, Chabad of Merrick-Bellmore-Wantagh has a limited amount of funding with which to help out families financially due to the Hurricane.

 
On Monday, January 28th, we will be hosting a meeting from 7:30-9:30 pm during which  
FEMA representatives will be available to discuss individual cases.  

Bring your FEMA registration number if you have one.

Resources

 and filing deadlines for Fema will be discussed

Bill Niezgoda, Sr. Insurance Examiner, will

give a brief presentation about what the Dept. of Financial Services can do to assist homeowners with their insurance issues.  He will be available 

to answer short questions after the presentation.

You will be able to complete a needs & services application for assistance from Chabad.
Meeting takes place at 2174 Hewlett Ave. Merrick NY 11566 (Entrance is through the back parking lot on Benson Lane).
Please RSVP to [email protected] or call Chana at 516-833-3057. 
To donate to our local hurricane relief fund, which will be distributed to families in our community who need it, please  click here.  
 Here are some resources to help you with recovery from
Hurricane Sandy:
1) Boilers at Discounted Prices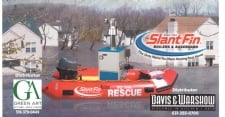 Due to the effects of Hurricane Sandy, many homes need their boilers replaced, causing a large demand for boilers.
We have partnered with Slant/Fin and Green Art Distributors to give you priority availability of their boilers at discounted pricing.  This program is for everyone-whether you have the means or not.  Please contact us to place your order or for more details at516-833-3057 or [email protected].
We understand that there are families who cannot afford to pay for a new boiler.  Please contact us if you are in need of partial subsidies.  Our funds are limited, and will be distributed on a first come-first served basis.
If you would like to help Chabad expand their hurricane relief fund-both to help more recipients, and to expand the items and help we are giving, you can click here to donate to our fund today.
2) Carpet and Flooring at WHOLESALE PRICES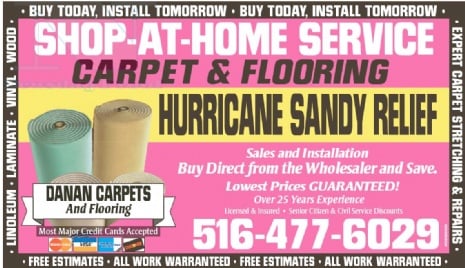 Carpet & Flooring, based in Levittown, NY is offering wholesale prices to help restore your floors if they were ruined due to Superstorm Sandy.  Call 516-477-6029 and ask for Nancy
 3) Drimmers Project H.E.A.R.T.
Was your washer/dryer ruined due to Hurricane Sandy?  Drimmers Appliance Store is offering to replace washers & dryers at dealer's cost. For more details, contact Drimmers at 718-338-3500 or www.Drimmers.com or view their flyer below: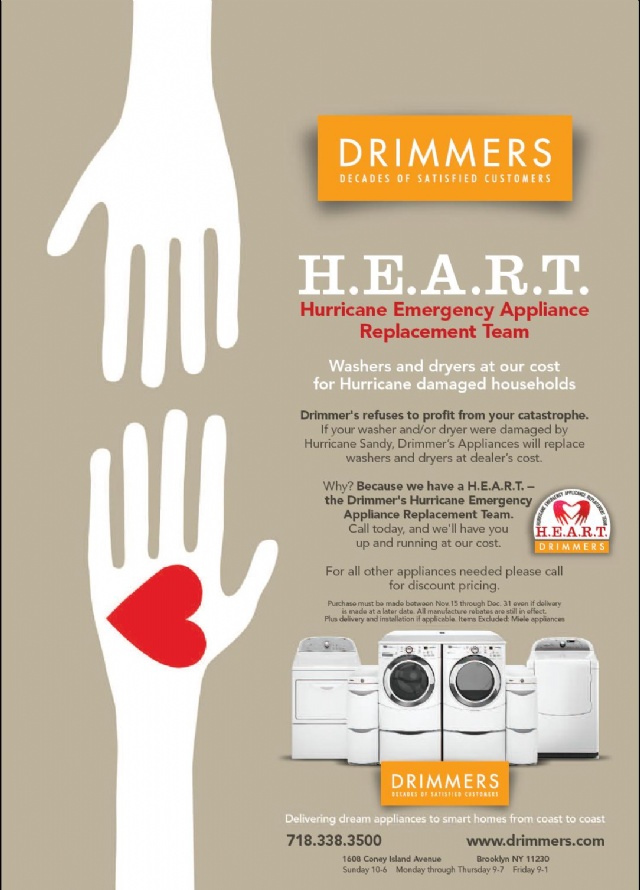 E-mails sent out before, during and after Superstorm Sandy:
1. http://www.chabadjewishlife.org/templates/viewemail_cdo/aid/2020884
2. http://www.chabadjewishlife.org/templates/viewemail_cdo/aid/2026424
3. http://www.chabadjewishlife.org/templates/viewemail_cdo/aid/2028563
4. http://www.chabadjewishlife.org/templates/viewemail_cdo/aid/2031024
5. http://www.chabadjewishlife.org/templates/viewemail_cdo/aid/2034691
6. http://www.chabadjewishlife.org/templates/viewemail_cdo/aid/2037917
7. http://www.chabadjewishlife.org/templates/viewemail_cdo/aid/2039985
8. http://www.chabadjewishlife.org/templates/viewemail_cdo/aid/2054919
9. http://www.chabadjewishlife.org/templates/viewemail_cdo/aid/2111271
10. http://www.chabadjewishlife.org/templates/viewemail_cdo/aid/2119274
11. http://www.chabadjewishlife.org/templates/viewemail_cdo/aid/2124566